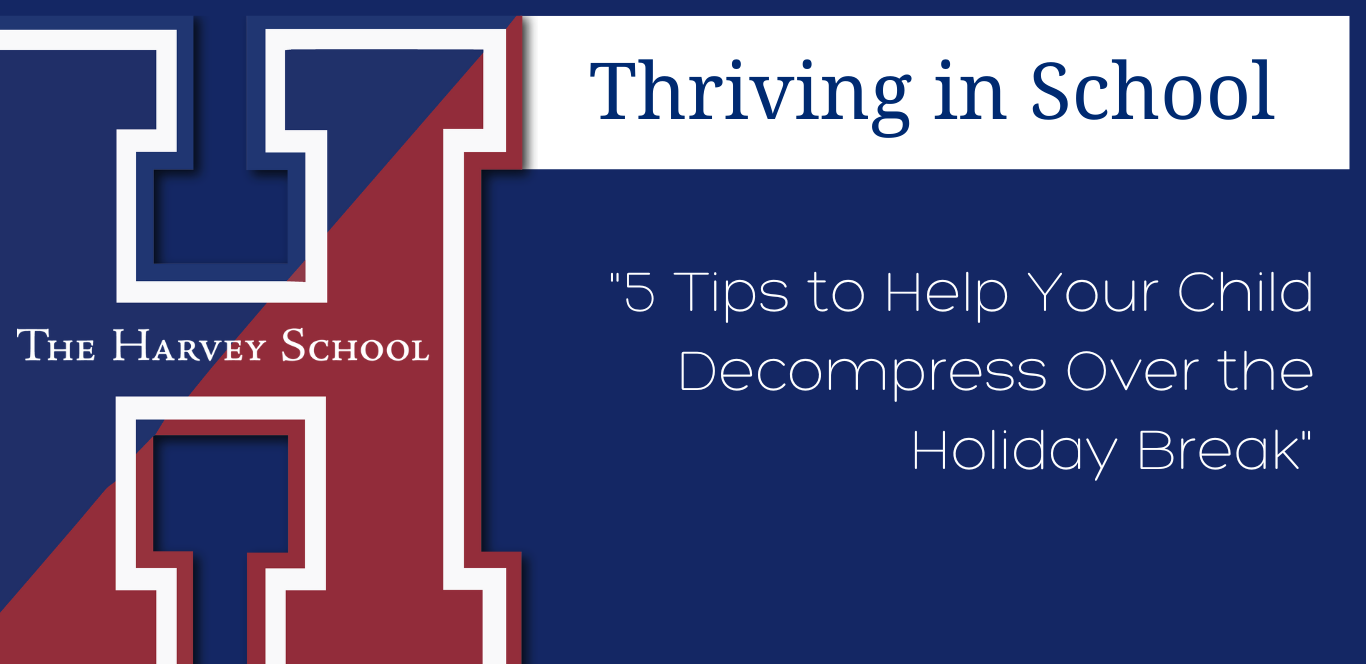 Swimming…tennis…voice lessons…Chinese lessons…holiday concert…homework…test prep…college visits…ice skating…dentist appointment…karate…school…skiing…play practice…Scouts…birthday party…sound familiar? Our kids' schedules are full--really, really full. So, what can we do during school breaks to help them decompress without losing all of their momentum? Here are five tips to help them get into a more relaxed and meaningful rhythm over winter break:
1 - Practice Gratitude
Expressing gratitude works on so many levels. It decreases anxiety, makes us feel better about all we've accomplished this year, and reminds us to take a moment to recognize all the wonderful things in our lives. The power of gratitude is contagious--so make sure to tell your kids what you're grateful for, too! These suggestions from Aetna Insurance can get you started.
2 - Practice Mindfulness
How can we go 60 mph to 0, and leave all our worries behind? It's about creating a space for yourself to breathe, relax, and just be yourself. Our kids spend so much time on social media and with their peers, trying to figure out who they are and whom they want others to think they are. Mindfulness gives them time to step away from those pressures and refocus on what really matters and the person they truly are deep down inside. Check out Mindful.org and follow these great ways to practice mindfulness with your kids.
3 - Give Back to Others
Get out and do some community service. There's no better way to reduce anxiety than to help others feel better, and you get the added bonus of feeling better, too! It's one of the most effective ways to gain confidence in how you feel about yourself and your life. Here's why:
It connects you to others
It is good for your mind and body
It brings fun and fulfillment to your life
4 - Get Some Sleep
Sleep is one simple thing that we all don't get enough of that can change everything. According to the NIH, with the right amount of sleep, kids are more likely to form and maintain the pathways in their brains that let them learn and create new memories, and make it easier to concentrate and respond quickly. According to Scrubbing In, teens should get 8-10 hours of sleep each night.
5 - Go Outside and Play
That's right, you are never too old to go outside and just have fun! Whether it's sledding or building a snowman after a great December snowfall, ice skating at your local rink, hitting the slopes to ski or snowboard, or going for a brisk winter hike, fresh air and movement will help your child to relax over break. Pediatric occupational therapist Angela Hanscom calls active outdoor free play "the most beneficial gift we as parents…can bestow on our children."
So, get your child to put down their technology, grab their coat and hat, and get outside! But remember, you need to do the same! There are so many wonderful ways to enjoy the winter break with your child. Make the most of it!